INNOVATION
Innocan Pharma™ is a specialty pharmaceutical company, developing products to harness the unique properties of cannabinoids.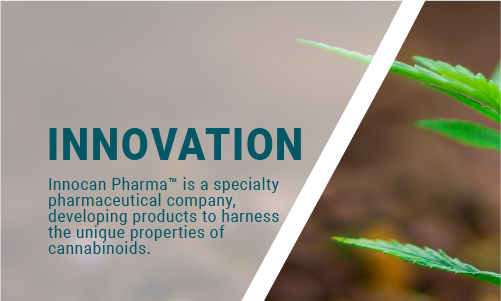 BREAKTHROUGH PLATFORM FOR INJECTABLE CONTROLLED-RELEASE CBD TREATMENTS
INJECTABLE CBD PATENT APPLICATION FILED OCTOBER 7, 2019
Innocan Pharma™ has a worldwide exclusive research & option agreement with Yissum Research and Development Company, the commercial arm of Hebrew University of Jerusalem, to develop a unique platform for injectable cannabinoids (such as CBD).
The new platform is focused on to facilitating the targeted controlled administration of cannabinoids (such as CBD) via injection.
This project with Yissum can lead to a breakthrough technology platform that enables the delivery of cannabinoids (such as CBD) via controlled release into the bloodstream, or even targeted at a specific organ or body part, with precise time and dosage control.
Professor Chezy Barenholz is a member of Innocan Pharma™ Scientific Advisory Committee, who serves as the Head of the Laboratory of Membrane and Liposome Research at the Department of Biochemistry of the Hebrew University–Hadassah Medical School, Jerusalem, Israel. Prof. Barenholz has 46 years' recognized experience in development R&D. He is the Executive Editor of Progress in Lipid Research and the author of over 350 publications. he is co-inventor of over 30 patent families, two of which underlie Doxil® for the treatment of breast and ovarian cancer (a doxorubicin remote-loaded sterically-stabilized ~100 nm liposome for treatment of cancer marketed by Johnson & Johnson). Prof. Barenholz has been granted various awards for outstanding contributions to the field of liposome science. He is a renowned specialist in biochemistry, biophysics, nanotechnology, and cancer. He received B.Sc., M.Sc. (cum laude) and Ph.D. degrees, all in Biochemistry, from the Hebrew University of Jerusalem, Israel.
CBD-INTEGRATED PHARMACEUTICALS AND COSMECEUTICALS PRODUCTS
The Innocan Pharma™ team has the knowledge in the development of effective pharmaceutical dermal products that combine cannabinoids synergistically with conventional ingredients that have been proven to be effective for various skin conditions and are approved by the FDA.
Our R&D team is best-in-class and has extensive experience developing formulations for topical use. Our team has developed a variety of formulations based on the synergistic effect of selected active ingredients.
Our R&D department develops products integrating the most advanced technology and a wide range of the highest quality materials, ingredients, textures, and fragrances. We continue to cooperate closely with leading research institutes and global ingredient suppliers to ensure that we are always up to date with the latest trends pertaining to safe, effective, and sustainable ingredients that go into our finished products.