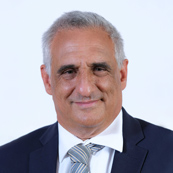 RON MAYRON
Executive Chairman
Mr. Ron Mayron has extensive experience in the pharmaceutical & medical device arena. His core expertise is in Marketing, Sales & Distribution, Mergers & Acquisitions, Business Development, Global Operations & Supply Chain and Strategic Development.
Ron served as CEO of Teva Israel and VP – Israel and Africa between 2009 and 2013 where he was responsible for entering the infant formula market in a partnership with Groupe Danone SA (Euronext: BN) unit Nutricia.
From 2007 to 2008 he managed the Commercial Affairs of the Teva International Group, which included operations in more than 30 countries.
From 2008 to 2009 he established and managed the new Russia & Regional Markets for Teva, including Russia & CIS countries (ex-USSR), Croatia & ex-Yugoslavia and Middle East & North Africa countries.
Ron was responsible for developing the Teva Israel growth strategy and entering new business activities in healthcare. As a result of his leadership, the company realized an increase in income of more than $650 million in 2013.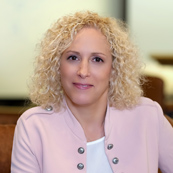 IRIS BINCOVICH
CEO
Mrs. Iris Bincovich is an experienced healthcare manager, with a proven track record in developing global business strategies to open and penetrate new markets. With nearly 20 years of international marketing, biz dev and sales experience, she has led and managed hundreds of successful international transactions in the OTC, cosmetics and dermatology sector.
Iris was formerly the VP Global Marketing & Sales for the OTC botanical specialist, Kamedis, where she established their successful International marketing strategy including establishing digital marketing platform and global e-commerce site. She has also led the marketing/sales strategy and world-wide distribution network for a variety of dermatology, cosmetic and OTC companies (Promedico (Wellcome), Pollogen (Lumenis; NASDAQ: LMNS), Starlet Derma, Power Paper) and has worked with leading international cosmetic customers (Estee Lauder, L'Oreal, J&J, Channel, etc.).
Whilst serving as the Business Unit Manager for Tagra, she accompanied the biotechnology startup from early stage to commercialization and established their worldwide distribution network.  
​​
RONI KAMHI
COO
Over 20 years of experience in global eCommerce and technology with a focus on Digital, Analytics and Data. Roni has scaled eCommerce startups from an early stage to 9 figures in revenue.
NELSON HALPERN
FCPA, FCA, TEP CFO
Extensive experience as CFO for public and private companies. Member of the Chartered Professional Accountants of Alberta. Received a Distinguished Service Award from the Chartered Professional Accountants of Alberta in 2005 and received an "FCA" designation as a Fellow Chartered accountant in 2013 for his contribution to his community and the profession.
YORAM DRUCKER
Founder & VP Business Development
Mr. Yoram Drucker is an Israeli entrepreneur and was previously involved in the development of two successful cell therapy technology firms, Brainstorm (NASDAQ:BCLI) and Pluristem (NASDAQ:PSTI). 
Yoram is the Founder of InnoCan Pharma and he is the CEO & Co-founder of the biotech company, ViruCure, developing an oncolytic-virus-based technology platform.
Prior to founding Innocan Pharma, Yoram served as the CEO and Executive Chairman of Cell Source Ltd (CLCS.OB) until 2015. He was a founding member of Brainstorm (NASDAQ: BCLI), where he served as COO in 2004 and CEO from 2005 to 2007. He was also among the founders of Pluristem (NASDAQ:PSTI) and served as a Director in Pluristem from 2004 to 2005. He has also worked as an Executive in the diamond industry, where he operated a successful marketing strategy and also served as Corporate Finance Consultant.
Yoram brings significant expertise in the management, operations, business development and product development in startups. He is also involved as a consultant and co-founder of other start-ups in different fields.
NIR AVRAM
BSC, MSC CTO
Mr. Nir Avram is a senior consultant in the areas of pharmaceuticals and cosmetics with over 30 years of experience.
Nir consults in diverse areas of expertise including pharmaceutical and cosmetic innovations, generic formulations and synthesis of novel materials, to start-ups as well as established companies.
Nir is vice president of research & development at Emilia Cosmetics Israel and Emilia Resources in the US. Prior to this he was VP of R&D at Careline, a leading cosmetics and toiletries manufacturer, and a member of the pharmaceutical innovation team at Perrigo. Previously he served as chief chemist at Zohar Dalia. He holds several patents.
Nir received an M.Sc. (Cum Laude) in organic chemistry from the Technion – Israel Institute of Technology, Haifa